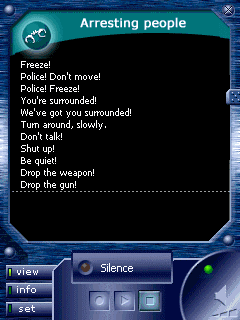 Law Enforcement Universal Translatorô for Pocket PC is an English to Spanish phrase bank with speech recognition capability. You say a phrase in English, and the machine recognizes what you said and pronounces the Spanish translation of the phrase.
The application was developed especially for New York City Police. Police often interact with Spanish-speaking citizens, and that is why knowing even a small collection of phrases greatly helps in their work.
The phrase bank consists of phrases requested by policemen themselves, and contains more than 2300 phrases.
These are broken down into the following groups:
General
General Questions
In the car
Arresting people
Police Department
Witness or Victim
Crime scene
Jail
Useful words
Download demo (960 Kb)
Contact us to get more information